MrMgr
Identity + Zero Trust Powered By Azure Active Directory and Cloudflare
Schedule a Call
Centralize Identity

Elevate your organization's data governance with a centralized source of truth for your users and groups using Azure Active Directory. Say goodbye to the hassle of configuring and managing multiple tools, and simplify access control with ease.

SOC2, HIPAA, PCI Ready

Streamline identity management for your organization by effortlessly onboarding and offboarding users across various tools using a single identity solution. Ensure regulatory compliance with SOC2, HIPAA, and PCI standards while enhancing data security.

Infrastructure as Code

MrMgr automates your identity management with Terraform. Terraform is used to configure Azure Active Directory and access policies for all the different tools you use, all while tracking your Cloud identity from Github. No more manual management.
Streamlined Identity Management
Ensure compliance, centralize policy management, and user and group management.
Connect Everything to a Single Identity

Your team's mobile, laptops, AWS, Google Workspace, Cloudflare, SSH connect it all to a single identity using Azure Active Directory configured through MrMgr.

Policy Roll-out

Set up a strong policy that is rolled out to ensure compliance and security. Use our preconfigured compliance to streamline your access policies for full time employees, contractors, and third parties.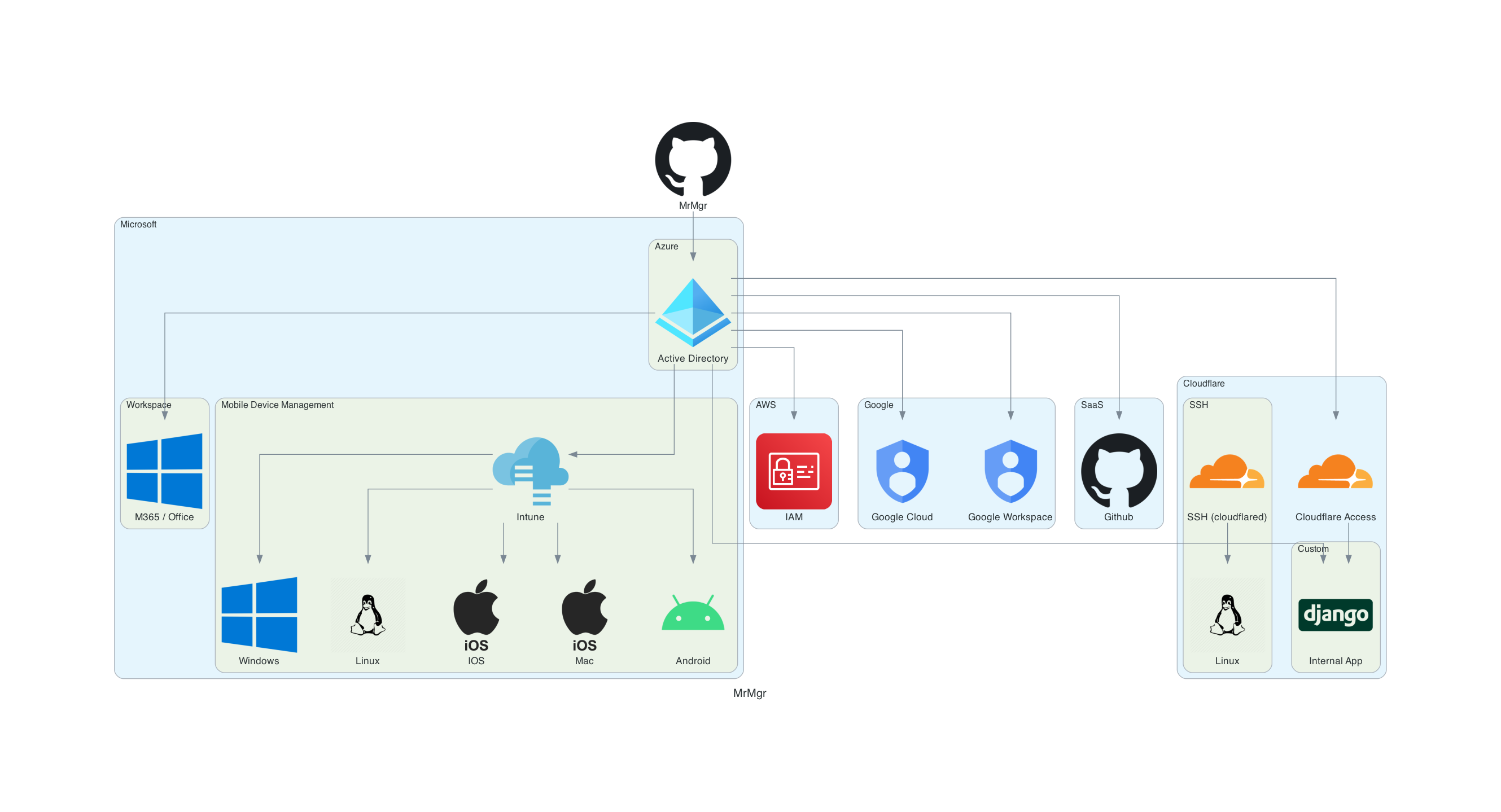 Ready to learn more?
Let's chat!
What is MrMgr?
MrMgr is a series of open source modules to configure Azure Active Directory as the sole identity source for your organization. The scripts provide configuration and management of Active Directory policies, user and group management, and centralized policy management. They also configure other services to use the Azure Active Directory identity. With compliance and enhanced data security, our product streamlines the identity management process while saving you time and increasing productivity.
Why Azure Active Directory?
Azure Active Directory is a cloud-based identity and access management solution from Microsoft. It allows the federation of user identities across services allowing you to configure users and groups from one place for them to gain access across multiple locations.
What is Cloudflare Zero Trust?
Cloudflare Zero Trust provides a reliable alternative to VPNs by simplifying the access to internal resources through a centralized solution. With Cloudflare's Zero Trust security framework and Azure Active Directory for identity management, there is no longer a need to deal with complicated VPN configurations and setups.
What if I use Google Workspace (G Suite)?
We will use Google Cloud Directory Sync to sync Active Directory User and Organization information to Google Workspace. If you are already using Google Workspace from a practical standpoint there will be no difference in using your apps and data other then just using Microsoft for Login.